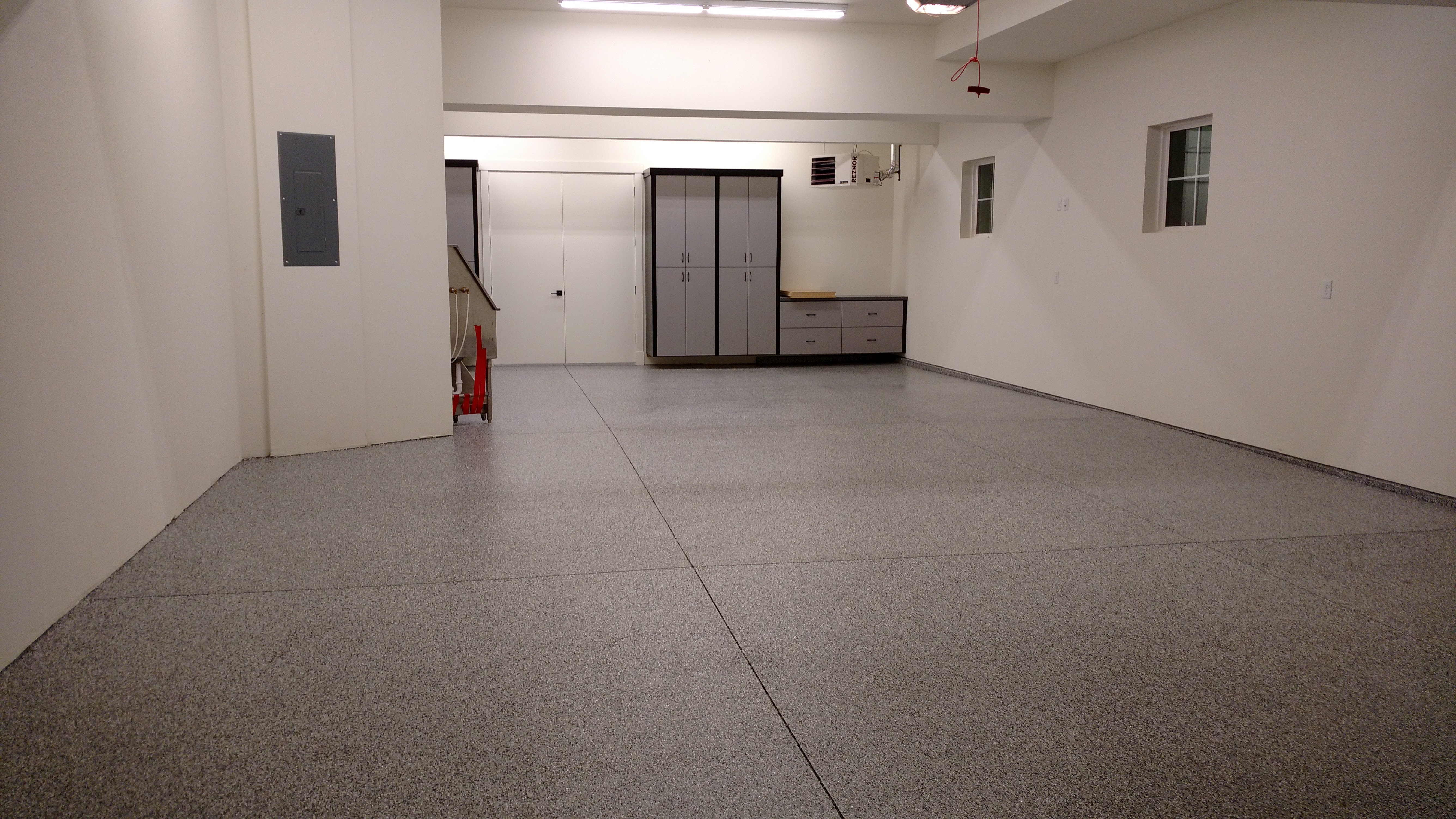 GARAGE FLOOR COATING - APPLICATION PROCEDURE
Upon arrival to your property we will park our coatings trailer as close to your project entry way as is possible.
Once equipment is unloaded our crew will extensively diamond grind the surface of your concrete to a 30-60 CSP.
When the concrete surface has been properly prepared and profiled with our diamond grinding equipment it will be thoroughly cleaned and vacuumed to allow for a proper bond with our Poly Aspartic coating materials.
Any specified cracks (excluding control joints) will be filled at this time before any Poly Aspartic materials are applied.
Once the preparation steps are complete the application of your new floor coating will start. Our applications are done entirely by a roller, squeegee, and brush application method. This ensures excellent quality control & neatness.
For all chip floor applications we first always start with a pigmented base coat which will compliment your chip colors.
Our HP SPARTACOTE concrete coating system will first include a heavy initial application of color pigmented base coat which will be followed immediately by the color chip application which is full coverage broadcast onto the wet pigmented base surface. At this time the crew will take a 2-3 hour break after these steps to allow proper drying and adhesion time for the chips to firmly bed into the Poly Aspartic liquid.
After a 2-3 hour wait time the crew will return and scrape the surface of the floor to achieve the desired surface texture.
All scraped chips are vacuumed up and discarded and the final top coating of clear Poly Aspartic material can begin.
A 3 layer system will receive 1 clear top coat where a 4 layer system will receive 2 clear top coats. The advantages of a 4 layer system are a smoother surface, lifetime warranty, more coating durability for heavily used floors.
The entire work area around your job is properly cleaned, a ribbon is put up across the garage, and the job is complete.
Upon your approval the invoice will be given to you and payment in full can be provided to the crew foreman.
We recommend 1 day to walk and 2 days for vehicle traffic on your new surface.
The 4 layer system comes with a lifetime warranty against peeling, flaking, or delamination from concrete surface. Our 3 layer system comes with a 10-year warranty. If this occurs within the warranty period we will return to fix those areas free of charge. This warranty does not cover natural concrete movement including but not limited to the following: control joint cracking, edge cracking, concrete surface cracking due to slab movement. Excessive intentional abuse of Poly Aspartic coating will void any and all warranties.
We exclusively use HP SPARTACOTE polyaspartic materials in our coating systems.